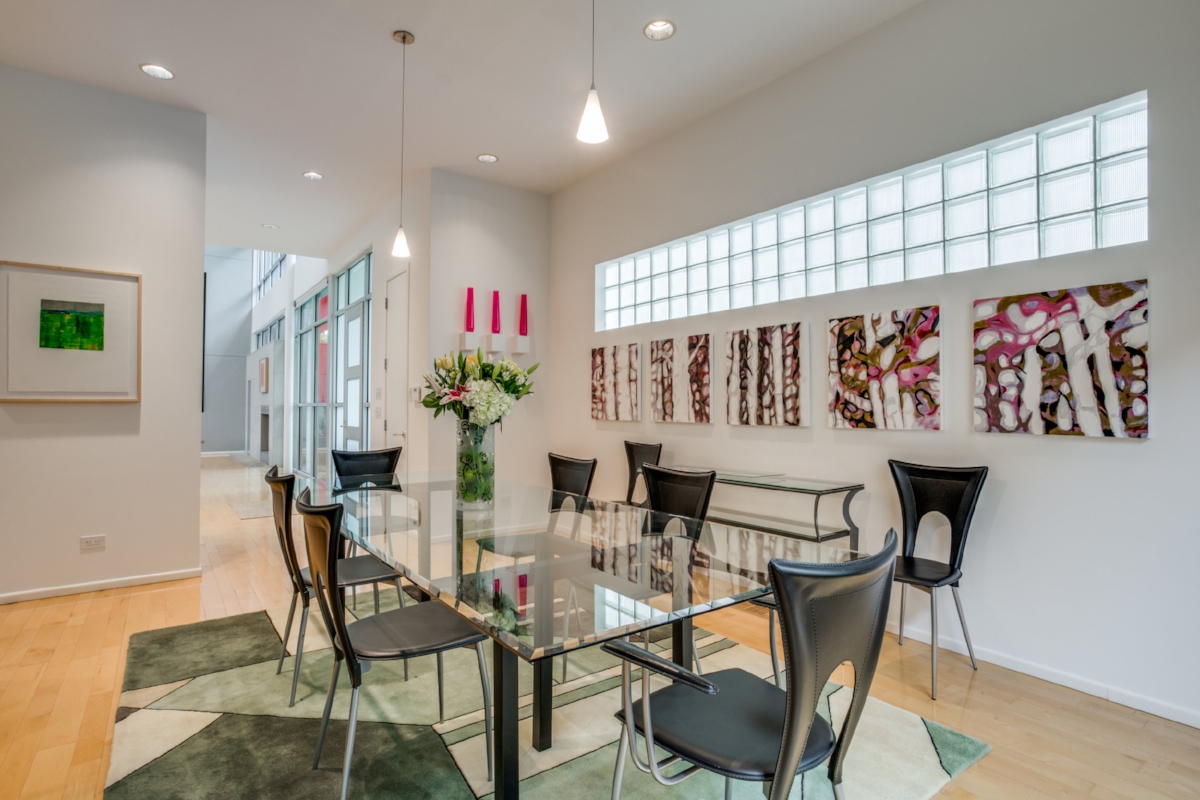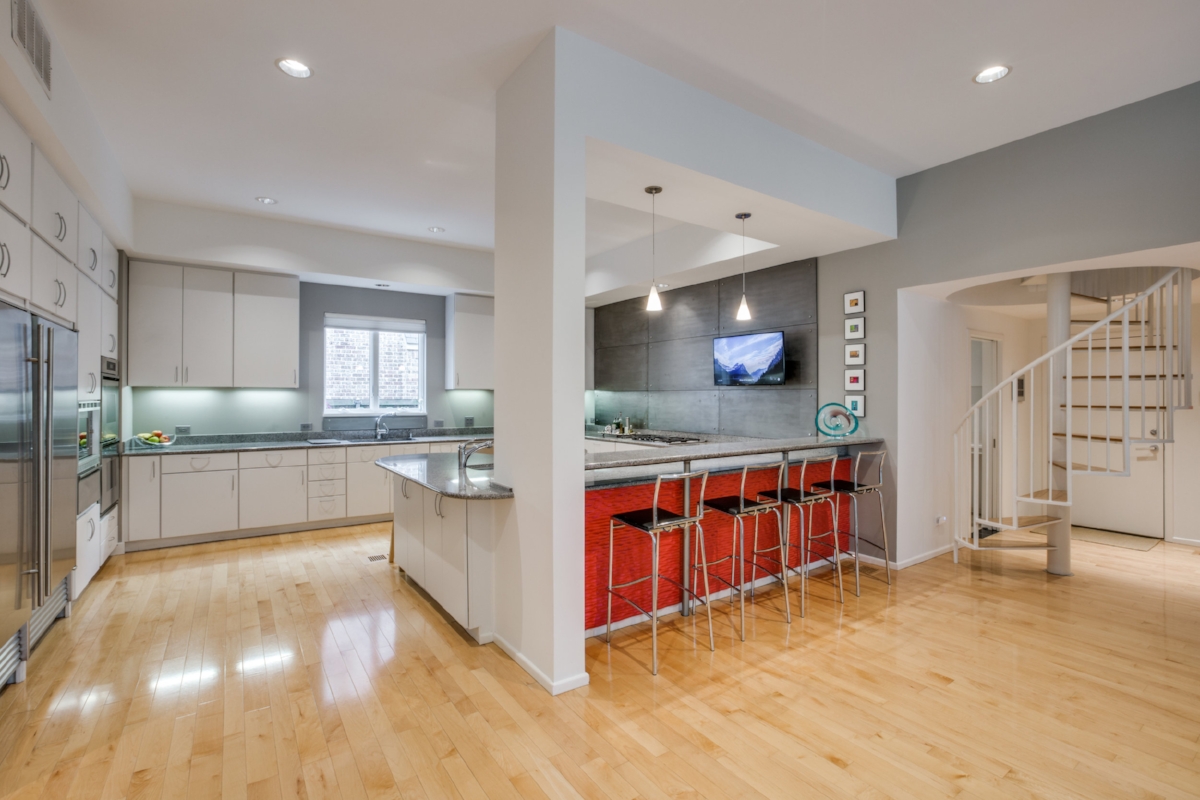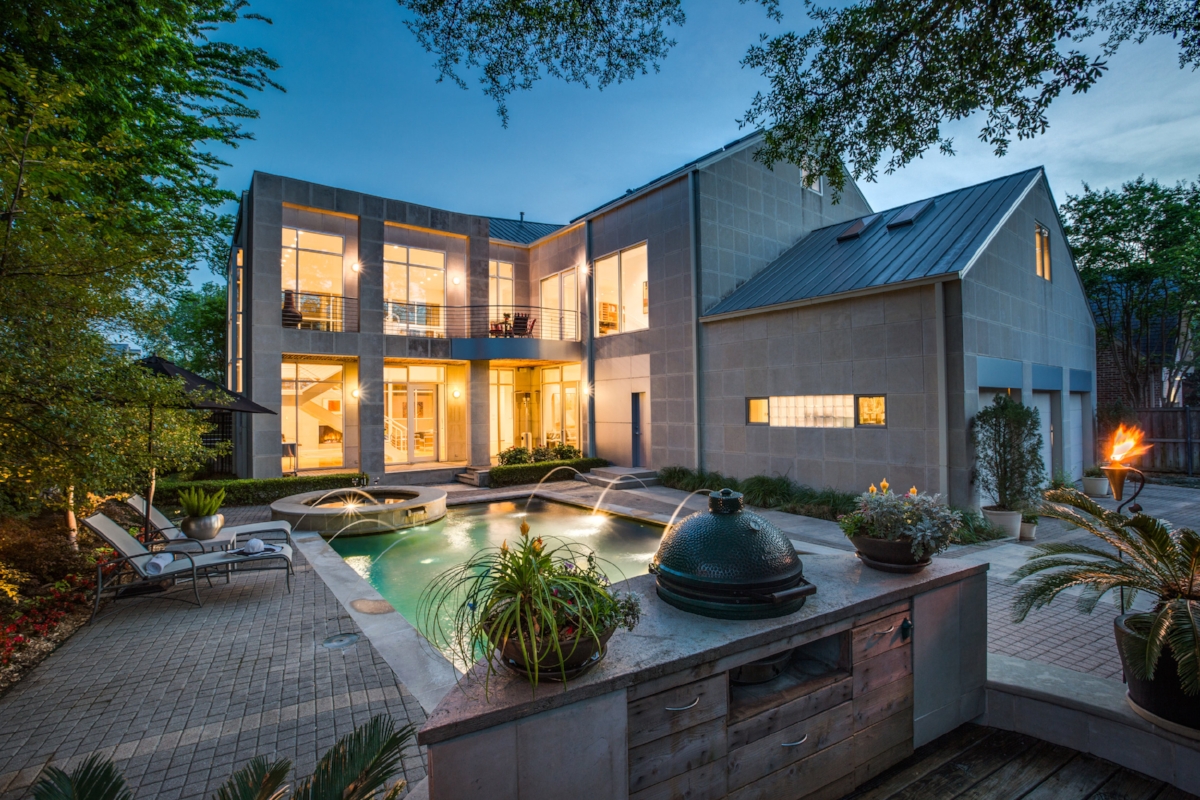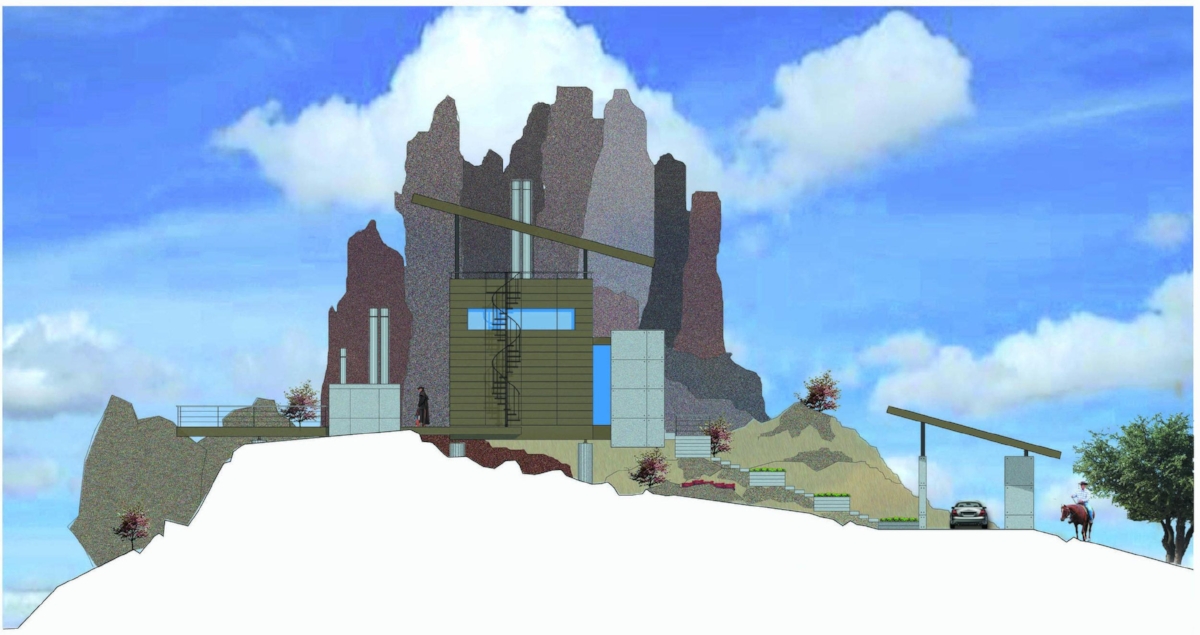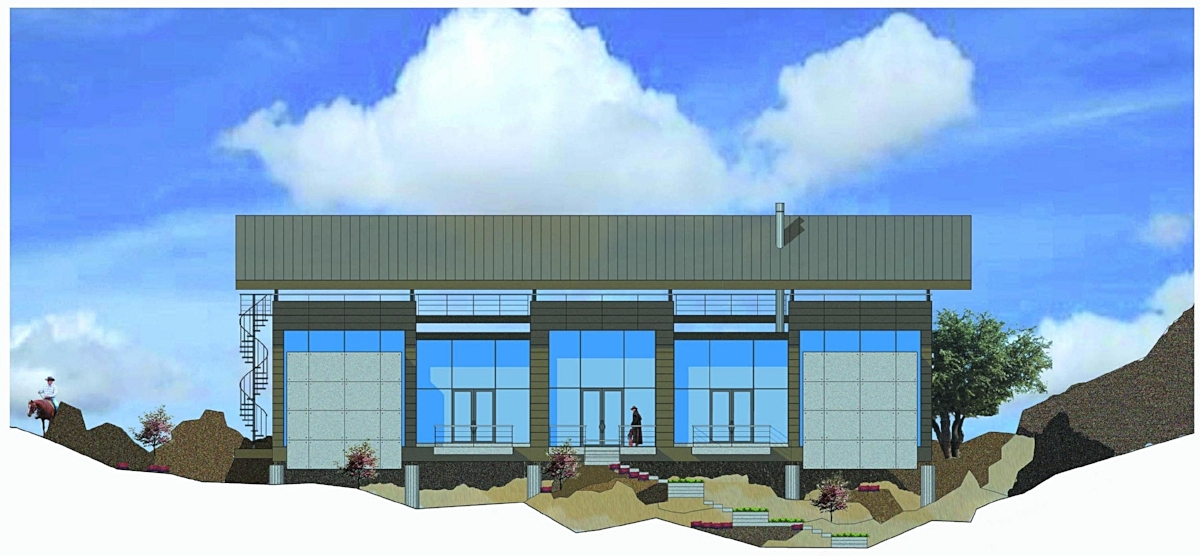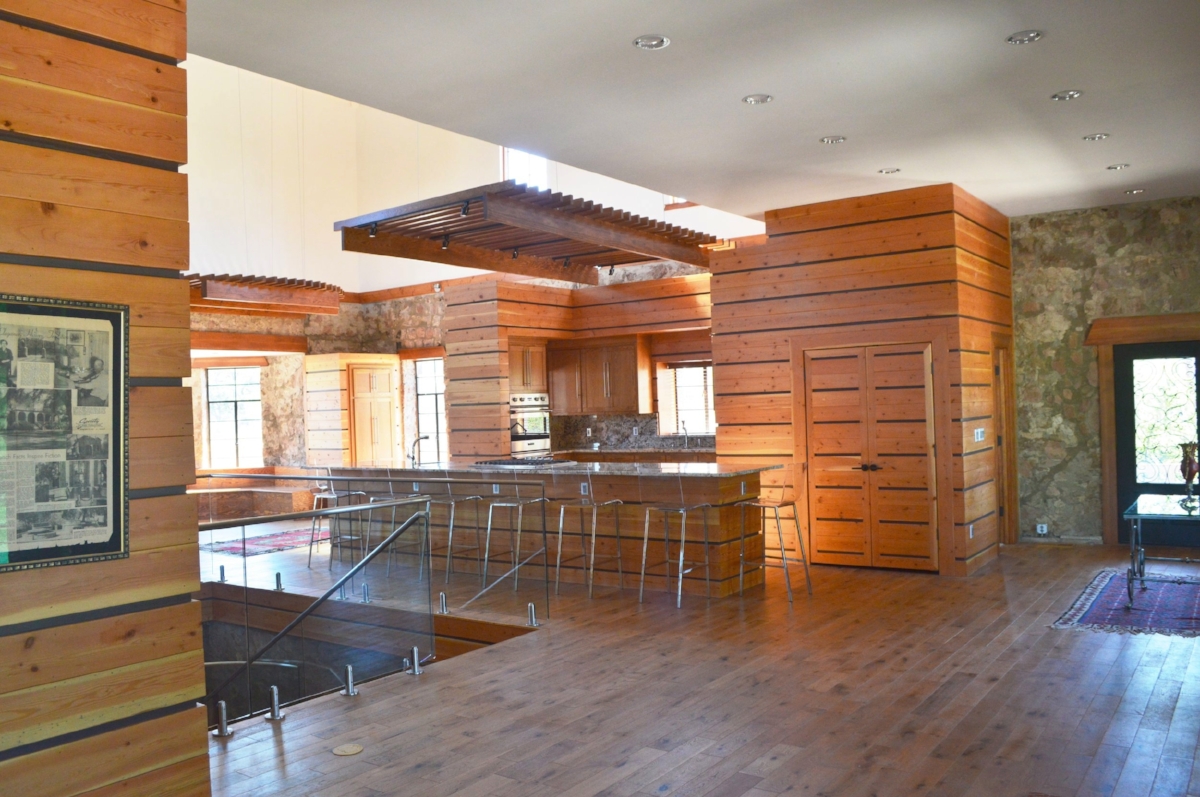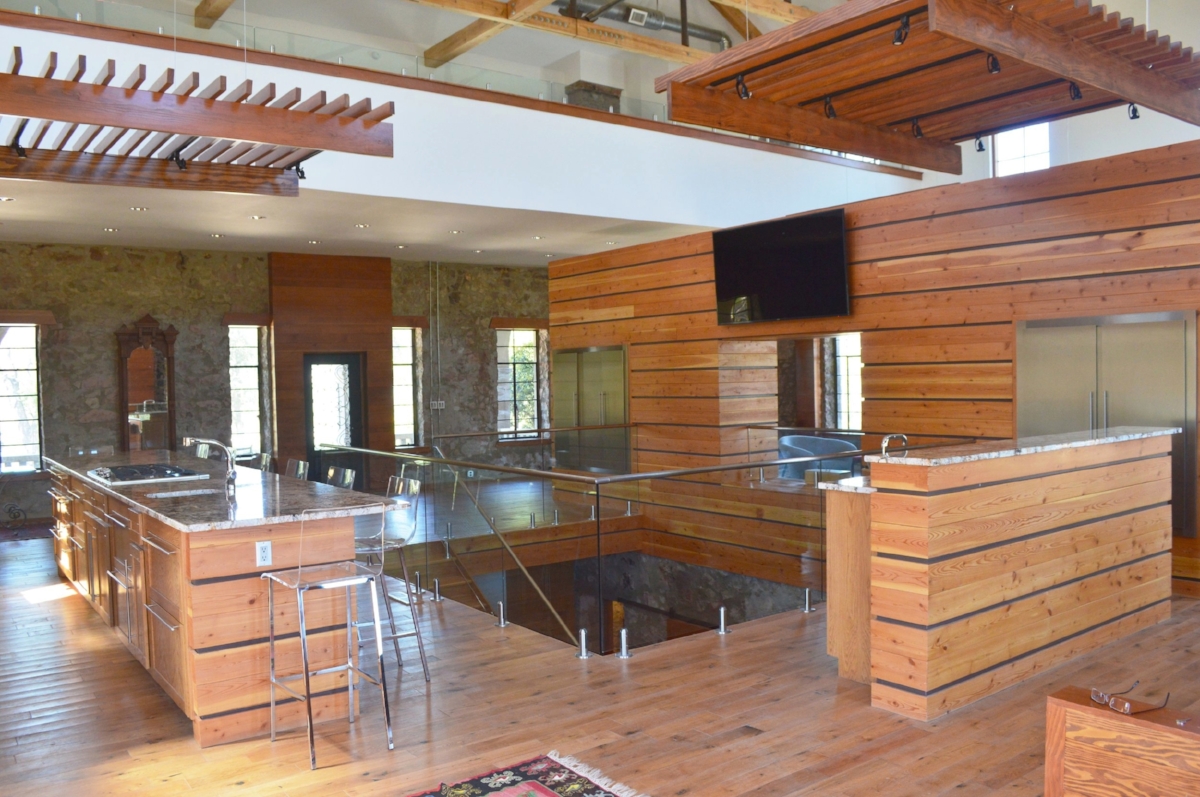 ehouse 1
Location: University Park, Texas
Client: Private
Area: Site 80'x150'; Residence 6,000 sf on 3 levels
Summary: This limestone clad residence was one of the first true contemporary designs in University Park.
Completed in 2003, this home has 4 bedrooms, 5 baths, 2 half baths, media/game room, 3 car garage with a custom pool, deck and outdoor grill area.
Grand Hall
Artwork Center: Spatial Orange
Artist: Edwin Brantley Smith
View from Main Stair Landing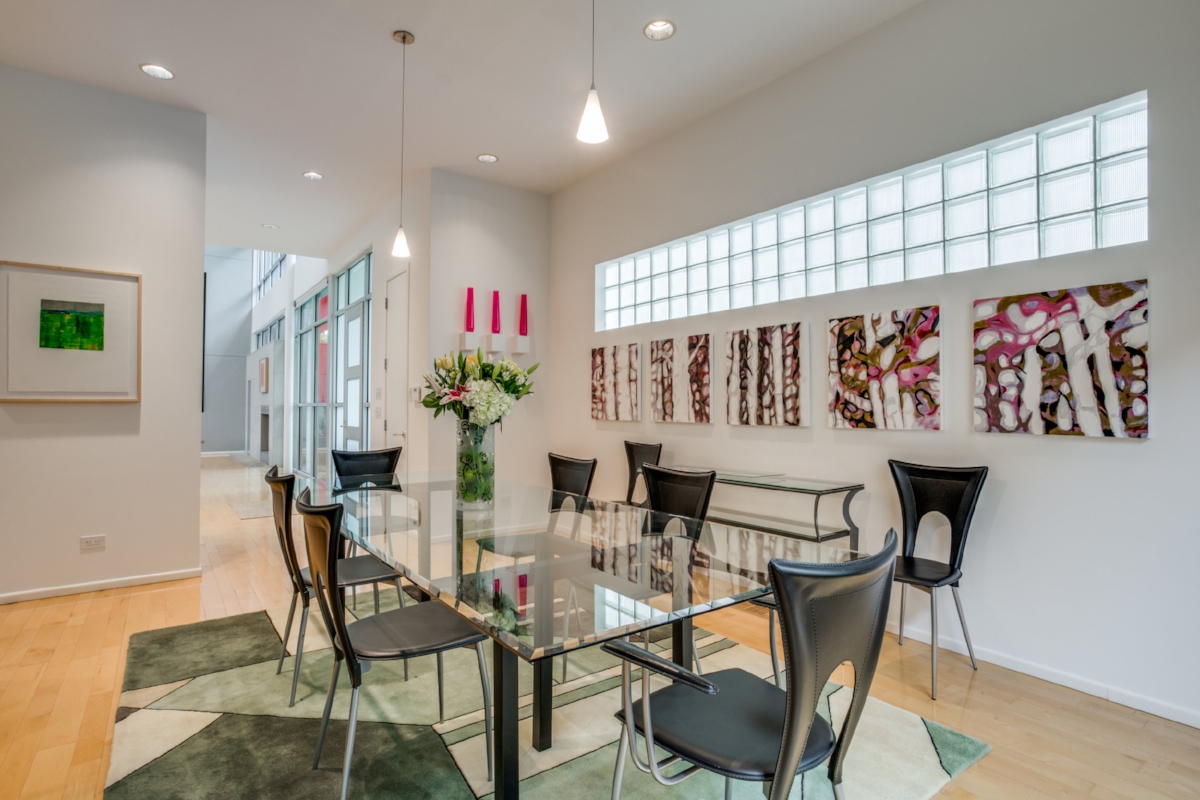 Dining Room
Artwork R: Saplings
Artist: Edwin Brantley Smith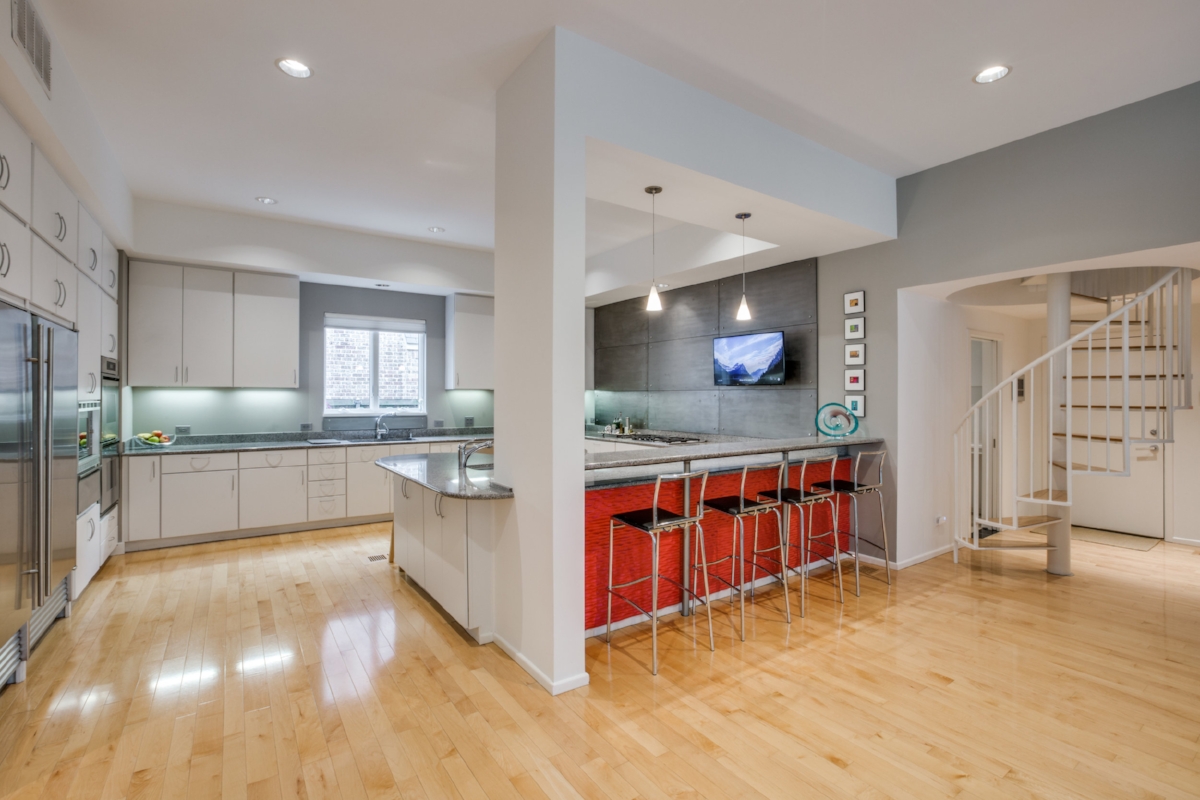 Gormet Kitchen
Custom steel panels behind flat screen monitor.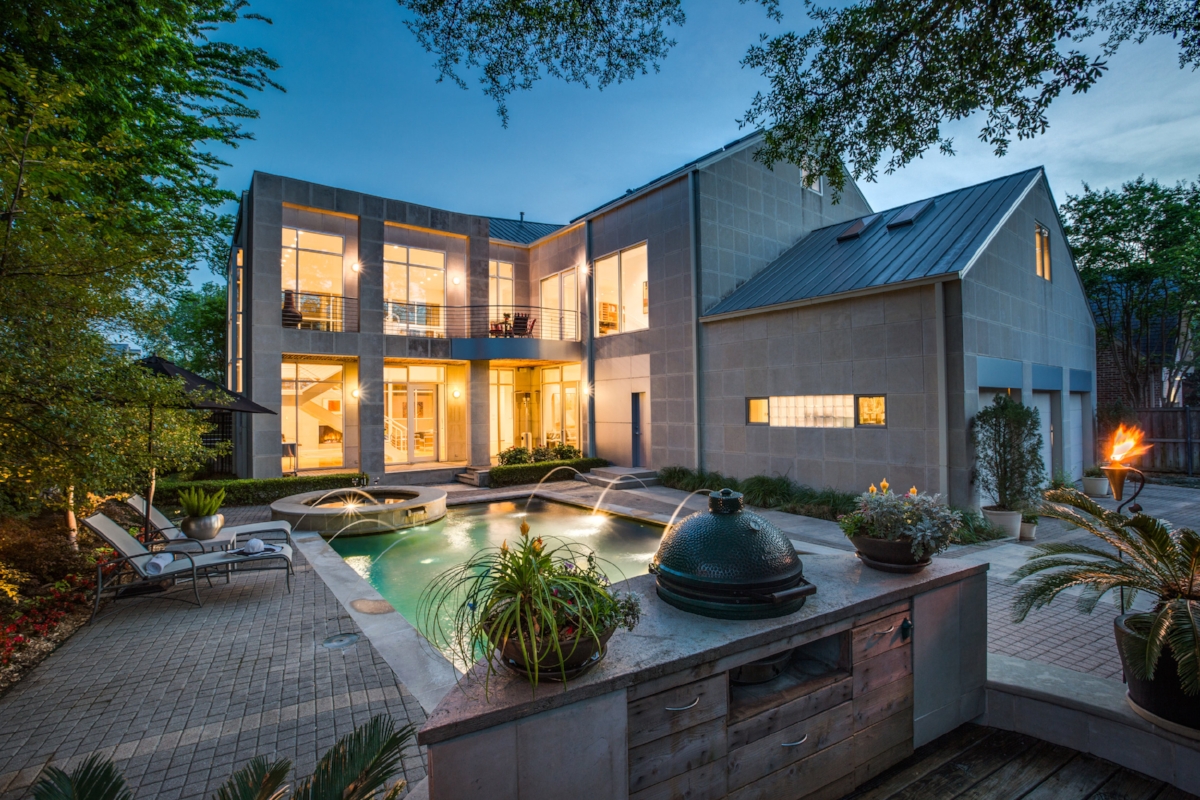 View from Deck
Custom designed pool with spa. Custom grill area with charcoal storage. X-large Big Green Egg. Brown Jordan outdoor furniture.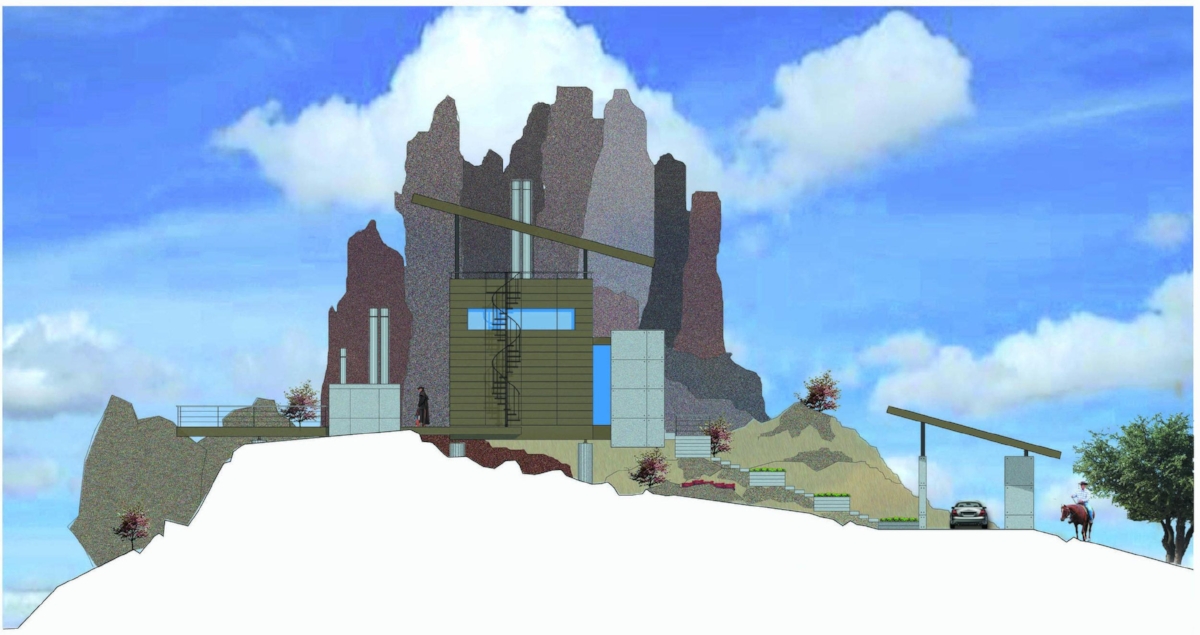 Taylor Ranch Casita
Location: Taylor Ranch, Fort Davis, Texas
Client: Private
Size: 2,000 gsf
Summary: This small private weekend residence, designed for a chef, sits atop a large rock formation with endless views in all directions. The design intent was to become a part of the site using color and transparency. The interior has 2 bedrooms, a large gourmet kitchen, and a large living room with bar. All indoor spaces have large outdoor decks cantilevered off the cliff sides with a special grill and oven adjacent to the kitchen.
Taylor Ranch Casita
East Elevation. The special grill and oven are on a cantilevered deck directly adjacent to the kitchen. The upper level is a covered outdoor entertainment area and sleeping porch. The garage is on the far left down the hill.
Taylor Ranch Casita
North Elevation. This view shows the transparency and openness of the house. Exterior materials are zinc metal panels which will weather over time to the color of the surrounding rock formations.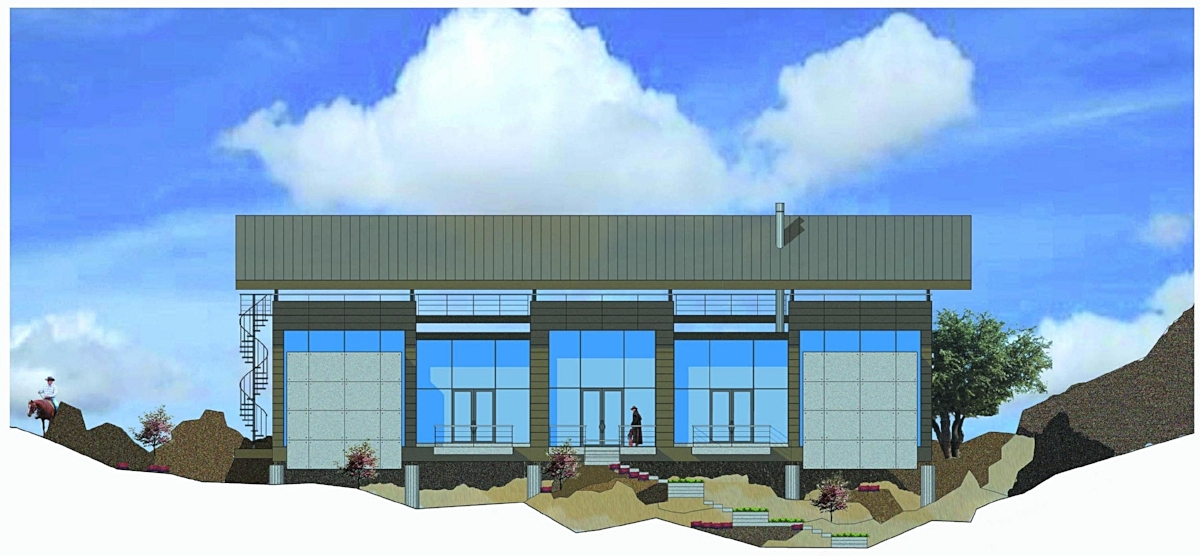 Taylor Ranch Casita
South Elevation. This is the entry side of the house as approached from the remote garage. The larger solid elements are poured in place concrete containing the master bath and guest bath. The large windows have concealed rolling shutters which may be closed to protect the openings during storms or when the resident is away.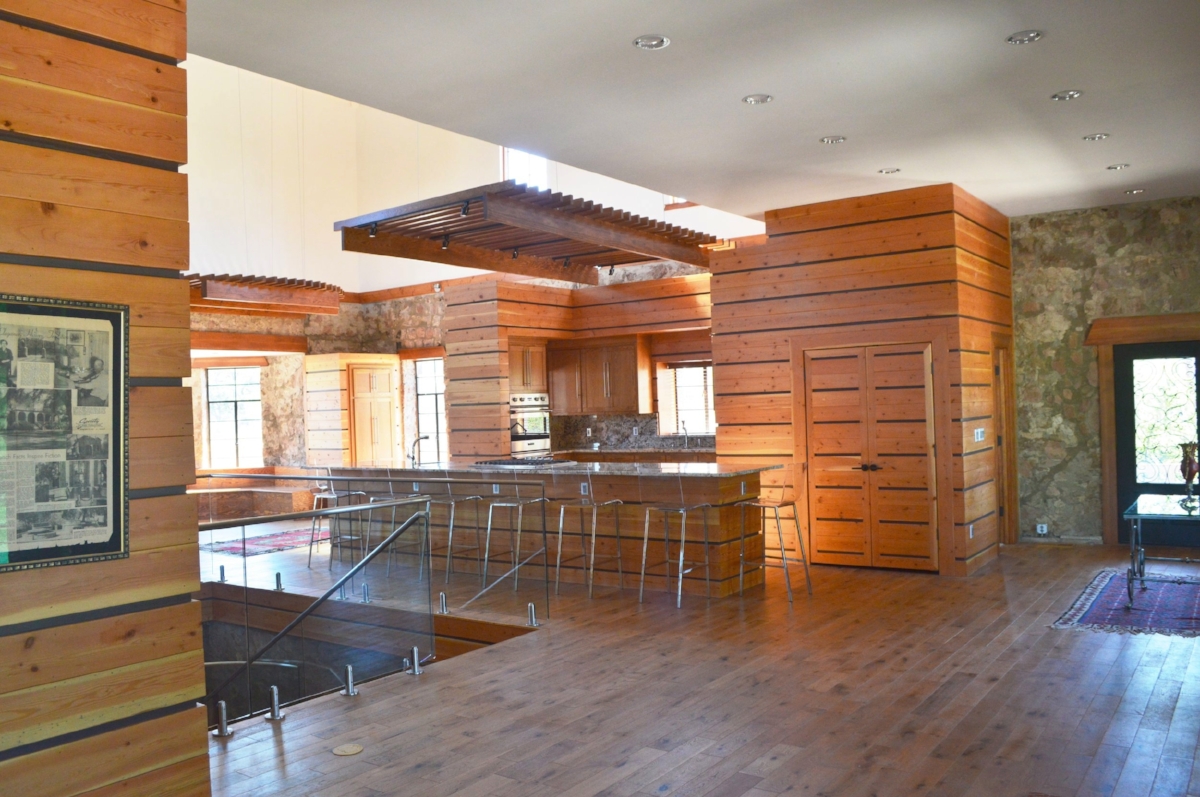 Fort Davis Ranch
This residence was originally built in the late 1800's for a wealthy merchant in Fort Davis. It burned in 2011 leaving only the stone bearing walls and the steel framed windows. Originally a variety of individual rooms the renovation transformed the residence into a boutique style gathering place for the families of the owners.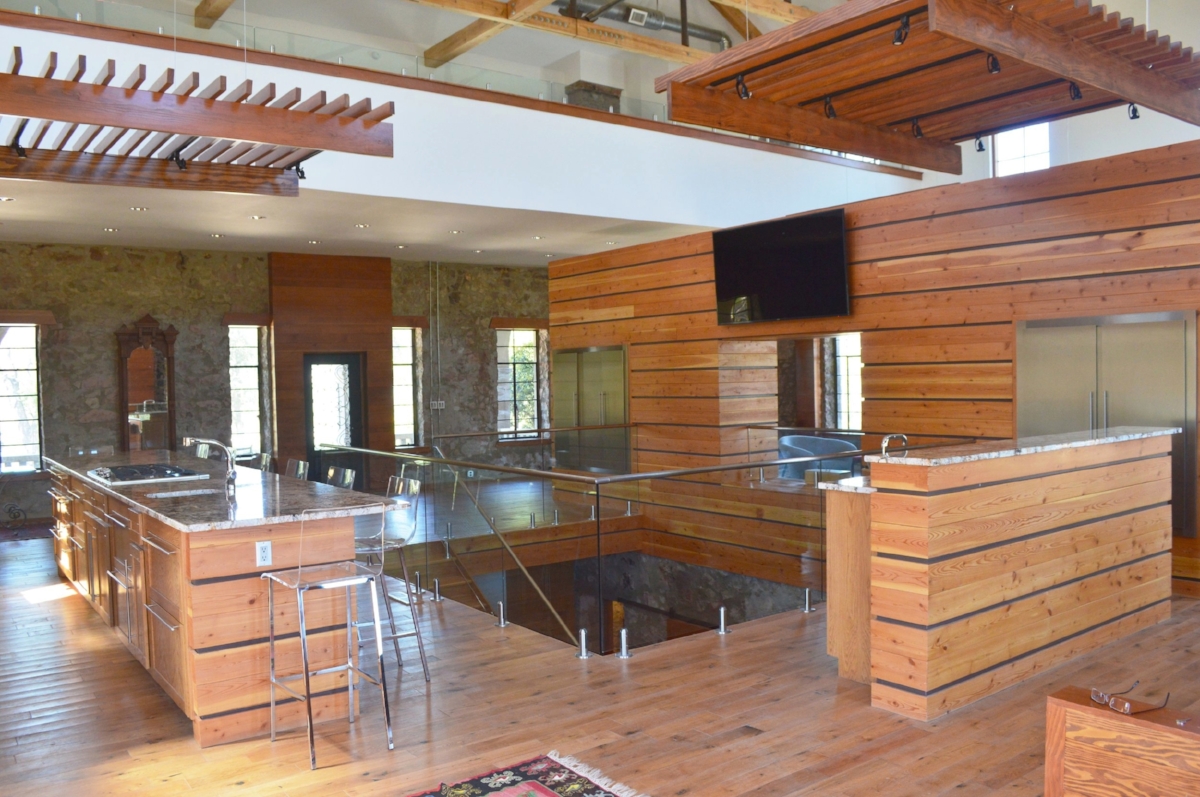 Fort Davis Residence
View of the kitchen and bar area.
Main Stair
A new stair connects the main space to the level below. Wide plank oak floors carry throughout the residence.
Fort Davis Residence
Lower level stair access to the bedrooms. The rock bearing walls are exposed and enclose the four bedrooms with private baths.